Ecclesiastical Museum of Milos
Church of the Holy Trinity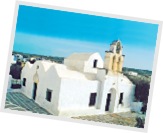 Close by the waterfront in Adamas, there stands the thousand-year-old church of the Holy Trinity (Agia Triada) housing the Ecclesiastical Museum of Milos. The church still operates as a place of worship but is at the same time a gallery displaying some of the finest artistic traditions of the island.


The church of the Holy Trinity itself, in the style designated by experts as a "three-nave basilica with a vaulted dome" is an interesting architectural monument in its own right. According to some authorities, it was built immediately following the "Iconomachy" (842 A.D.) but has undergone several renovations, especially a major one during the Frankish rule, which left its permanent mark in the architecture of the building.

The rare architecture of this very old church in combination with the decorative mosaics of the courtyard as well as the
religious exhibits
it contains are apt to appeal to the visitor's feelings not only as tokens of Christian Orthodox worship and tradition but also as superior works of art.


---
Ecclesiastical Museum of Milos
Gregory Belivanakis, Curator
84801 Adamas, Milos
Tel: +30 22870-22252; -23993
Fax: +30 22870-23993
Mobile: +30 6977906382
URL:
www.ecclesiasticalmuseum.org

e-mail: